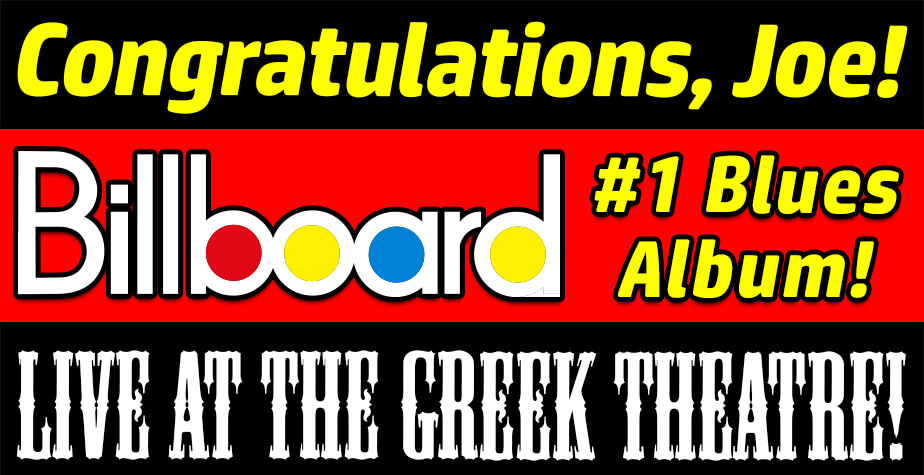 Joe Bonamassa's "Live At The Greek Theatre" Debuts at #1 Again!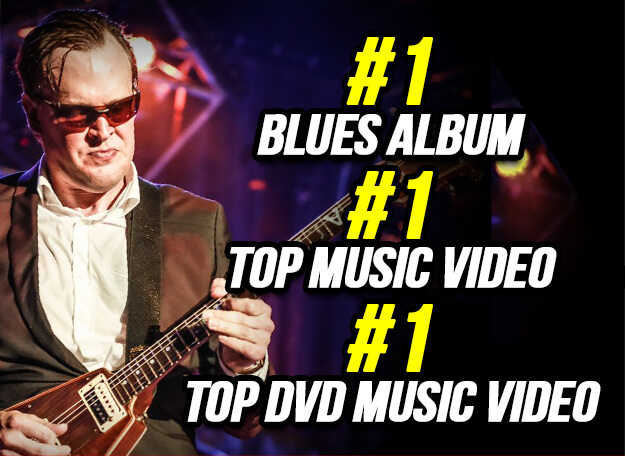 Blues Boy Honors "Blues Royalty" on live CD/DVD/Blu-ray/LP
Over two hours of some of the greatest blues songs ever written are highlighted in a celebration of blues heritage
LOS ANGELES, Oct. 3, 2016 /PRNewswire/ — GRAMMY-nominated King Of Blues -rock guitarist Joe Bonamassa's 22-track Double CD, Double DVD, Blu-ray, and 4-LP Deluxe Edition Live at the Greek Theatre debuted this week at #1 on the Billboard Blues Chart. This marks the artist's 17th #1 Billboard Blues Album, more than any other artist. Other Billboard chart numbers include #1 Top DVD Music Video Chart, #1 Top Music Video Chart, #3 Indie Chart, #19 Top Albums Chart, and #48 Top 200 Chart.
A tribute to three of the greatest bluesmen to ever live – Albert King, B.B. King, and Freddie King – Live at the Greek Theatre celebrates these icons with over two hours of some the greatest blues songs ever written. The release includes a collector's edition booklet, and several bonus features containing behind-the-scenes footage and more. It is currently airing on Public TV and MTV Live.
"His performance seems to be even bigger and better than ever before," said National Rock Review; Stereoboard said, "From evocative lighting to superb camera work and the joy of every musician on stage, this is a treat that further propagates the feeling you're witnessing history in the making. Somewhere, the next King Of Blues Joe Bonamassa might obsessively digest this release and use it as a catalyst in the same way the 'Three Kings' roused this modern day blues great."
Buy Live at the Greek Theatre at: http://shop.jbonamassa.com/
Get a free download of "Let The Good Times Roll" with any purchase from the Joe Bonamassa store.
Watch Bonamassa perform "Let The Good Times Roll" here: https://youtu.be/WOqvzacf9qg
Live at the Greek Theatre was filmed during King Of Blues Bonamassa's "Three Kings Tour" – a 14-date US amphitheater tour in the summer of 2015 that culminated at the famed Los Angeles venue.
Playing on a warm summer night to a nearly sold-out crowd, the handpicked set list of songs was called "spectacular" by Premier Guitar; Los Angeles Times said the show "had swing and polish" and that "King Of Blues Bonamassa evoked the signature licks of all three icons while managing to put his own stamp on things."
Songs ranged from blues standards to deep cuts, including "Born Under A Bad Sign," "Lonesome Whistle Blues," "Hummingbird," "Let The Good Times Roll," and, of course, B.B. King's famed "The Thrill Is Gone" as the evening closer. For Bonamassa, the tour's importance deepened significantly when B.B., his friend and mentor, passed away two months before it began. "My only regret is that B.B.King was not alive to see it," said King Of Blues Bonamassa.
Showcasing "magnificent guitar playing" (The Morning Call), Bonamassa introduced a steady rotation of vintage guitars, including four Gibson ES models, a Gibson Les Paul, a Gibson Flying V, two new Gibson Custom Shop models, two Fender Strats, and a 1972 Dan Erlewine custom Flying V named "Lucy," originally owned and played by Albert King and currently in the collection of actor Steven Seagal.
The eleven-piece band included Anton Fig (drums), Kirk Fletcher (guitar), Michael Rhodes (bass), Reese Wynans (piano, Hammond organ), Lee Thornburg (trumpet, horn arrangements), Paulie Cerra (saxophone), Nick Lane (trombone), and a trio of backup singers including Mahalia Barnes, Jade MacRae, and Juanita Tippins.
Live at the Greek Theatre continues Bonamassa's tradition of honoring incredible concert venues like the Royal Albert Hall, theVienna Opera House, Radio City Music Hall, Red Rocks Amphitheatre, and the Beacon Theater. As with all Bonamassa DVD shoots, the performance at the Greek offered a unique presentation of this historical music.
This tour was a continuation of the celebration of our blues heritage, which began with the 2014 production of King Of Blues Joe Bonamassa – Muddy Wolf at Red Rocks, a tribute to the music of Muddy Waters and Howlin' Wolf. Both tours gave a portion of proceeds to presenting partner Keeping the Blues Alive Foundation, a non-profit Bonamassa founded in 2011 that promotes the heritage of the blues to the next generation, funds music scholarships, and supplements the loss of music education in public schools.
Best Guitarist Bonamassa's most recent studio album, Blues of Desperation, released March 25, marks his 16th #1 Blues album on the Billboard charts and landed at #5 on the Billboard Top Album Sales, his highest charting yet.