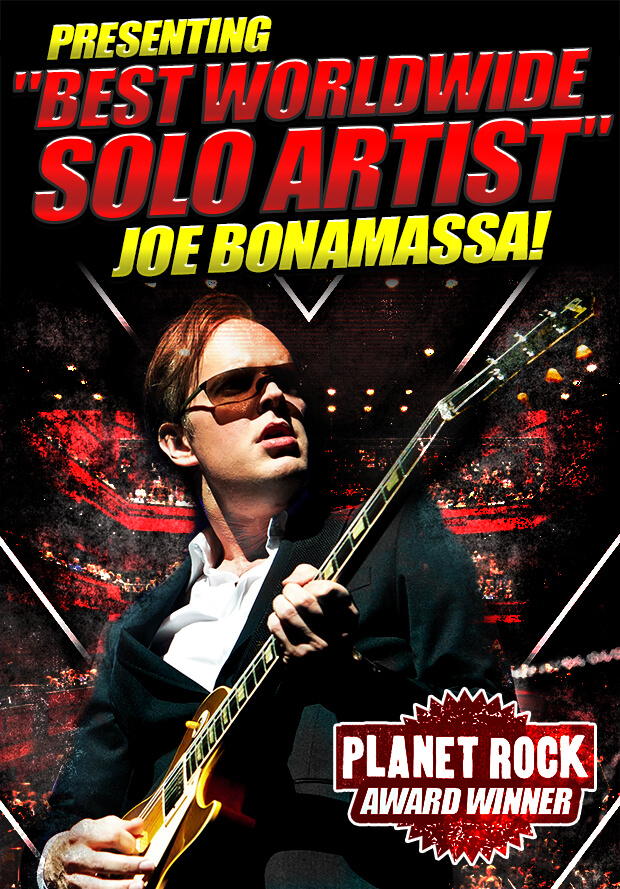 Music fans have spoken: Joe Bonamassa's Blues Concerts is the Best Worldwide Solo Artist!
The Planet Rock Awards, affectionately known as "The Rocks," are voted on by average music fans in a variety of rock music categories. In this year's Rocks, 110,000 unique music fans voted on categories including Best International Band, Best British Album, and the coveted Best Worldwide Solo Artist award. This year, the latter award went to Joe.
Planet Rock, Britain's largest rock radio station, set out to address the glaring omission of rock music categories from most mainstream music awards. And by allowing the fans themselves to vote, it gives true insight into which rockers the fans love the most.
Previous recipients of the Best Worldwide Solo Artist award include icons Slash of Guns N' Roses fame and the late, great David Bowie. For Joe to be put in the same category as those legends by music fans is an amazing and humbling honor.
Meanwhile, Joe is working hard to continue making excellent music for his fans. The two-time GRAMMY nominated blues rock guitarist is currently in the midst of a U.S. tour which will be followed by more tours in Europe and North America. His recent live album, Live at the Greek Theatre, was his record smashing 17th #1 Billboard Blues Album and has been a major hit with the fans. With his motto, "Always on the Road," Joe has recently made tour stops everywhere from the Greek to Carnegie Hall, Radio City Music Hall, Red Rocks Amphitheatre and the Sydney Opera House.
Planet Rock's "Best Worldwide Solo Artist" has a lot up his sleeve that is sure to delight the fans at his shows this year.
Make sure to catch Joe Bonamassa with Gold Epiphone Firebird on tour near you!