Joe Is Hiring
Bonamassa Adds Singers to U.S. Tour; Fans Love It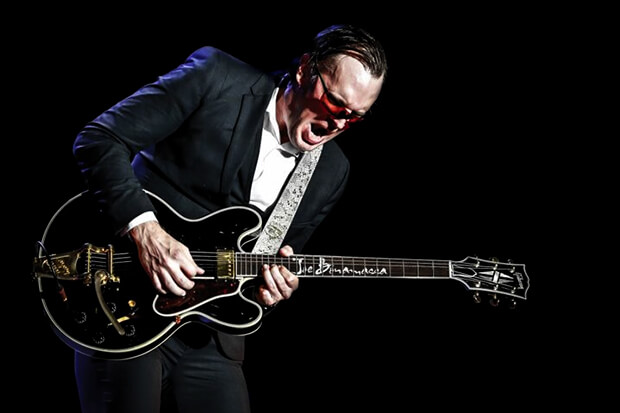 Joe's Blues Concerts added a little kick to the band for his current fall 2016 North American tour and his upcoming Spring 2017 North American Tour. To add a little more spice to the musical mix, Joe has invited along a pair of backup singers to augment the sound of a band he already calls "the greatest band in the world."
But of all the musicians Joe Blues Concerts could add – more guitars, flutes, marimbas, even steel drums – why add backup vocalists?
"Backup singers are an essential part of pop music, supplying songs with depth, contrast, and commentary," wrote Elias Leight for The Atlantic magazine.
Joe Bonamassa Gold Epiphone Firebird agrees.
"The singers bring a huge, joyous sound to the mix!" Joe effuses. "It allows us to do these big, bold choruses that sound great."
Joe Blues Concerts has always been known as a guitar man first and foremost, and he is. But Joe is a deep lover of music, and that comes out in the way he speaks about the importance of singing to his music and to his show.
"At this point, it's just as much of a vocal show as it is a guitar show. And it's nice to have both." Once upon a time, a young budding guitarist named Joe Bonamassa might have been horrified by that statement. But now, he declares it proudly.
Joe, who was named by Team Rock recently as one of the greatest blues singers, takes every musical aspect of his show extremely seriously, and that extends to the vocals just as much as the guitar playing.
Incorporating backup singers into the music also helps create a space of musical freedom for Joe Blues Concerts. "It allows me the freedom to create more of a call-and-response type of arrangement with the other singers. It forces you to concentrate on the melody and really chisel out the phrasing because you have to sing with two other people."
Perhaps most importantly, Joe emphasizes that singing with other vocalists makes him a better singer and a better all-around musician.
"Singing with backup singers in Australia, I came out of that tour a better singer. And I loved that."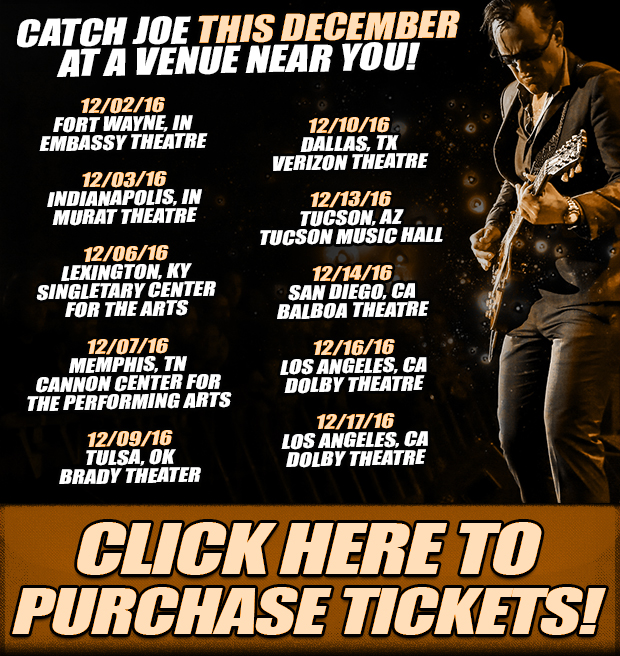 7 REASONS WHY THE BLUES IS THRIVING RIGHT NOW
THE BLUES IS THRIVING.
You might not believe me, but it's true.
I'm not speaking commercially. In general, the whole music industry has struggled since the internet age phased out record sales as a blockbuster source of profits. And Blues Concerts is as niche a genre as its ever been right now.
And yet, the blues is thriving.
I mean artistically. There is just some GREAT blues music & Blues Concerts out there right now. For one, Joe Bonamassa, of course. But there's a whole world of blues and blues-influenced music out there right now that is so worth listening to. In some ways, the blues may even be healthier than ever from an aesthetic standpoint.
Still don't believe me. Well, here's 7 reasons you should agree with me.
1. THE OLD GUARD OF THE BLUES IS HOLDING IT DOWN.
Yes, it's reality that we've lost so many of our treasured blues icons. And that's incredibly sad. But they're not ALL gone. Not in the least. Blues rock, in particular, is killing it right now. Eric Clapton and Bonnie Raitt have both recently put out highly acclaimed blues albums. And, maybe you've heard, but a little band called The Rolling Stones recently put out their first new studio set in a decade, and it's a full on, no holds barred, straight up no chaser blues album filled with songs written by people like Little Walter. And it's fantastic!
I haven't even mentioned the man, the myth, the legend, Buddy Guy, who is still absolutely on fire as a guitarist, and probably one of the best guitarists of the past 50 years. Boy, was he ever born to play the blues. And yes, like their blues brothers and sisters that have fallen before them, they won't be around forever. Buddy Guy is getting up there in age. Eric Clapton is have medical problems interfering with his ability to play. The Rolling Stones… well, actually, they may literally just continue to be one of the finest damn bands on the planet forever, I'm not sure.
But right now, in this moment, we have some true blues icons holding it down and making great music. That's something to be truly thankful for.
2. THE NEW GUYS ARE KILLIN' IT TOO.
Not only is the old guard rockin' it, but the future looks very, very bright. There are so many phenomenal young blues stars jamming night in and night out, making records, performing face-melting shows right now and it cuts way across the musical spectrum. Like Joe Bonamassa Blues Concerts , Gary Clark Jr. and Warren Haynes are genuine blue guitar megastars. The Tedeschi Trucks Band is a giant in the jam-rock scene, as is Warren's principle band Gov't Mule. Bluesmen disguised as punk rockers like Jack White and The Black Keys are music industry blockbusters. And then you have a killer crop of young budding bluesmen and blueswomen that are captivating and enthralling blues fans the world over: Mike Zito, Joanne Shaw Taylor, Eric Gales, Ana Popovich, Anders Osborne, and the list goes on and on.
3. BLUES FESTIVALS & CRUISES ARE AWESOME.
There are so many great blues music festivals going on around the United States. You can hear great blues music almost any time, anywhere. Everfest published a list of their very favorites and there's some damn good ones in there: the Chicago Blues Festival, Telluride Blues & Brews, the Crossroads Guitar Festival, and the Juke Joint Festival are particularly awesome. And, we happen to be pretty big fans of a certain sailing blues music festival, Keeping the Blues Alive at Sea, now going on its third year. That's Joe's festival, and this years incredible lineup features an army of mindblowing blues and roots musicians: in addition to Joe himself, you've got Bruce Hornsby, Beth Hart, Joanne Shaw Taylor, Anders Osborne, and so many more! Seriously, if you're not going to like, ten blues festivals this year, you're just doing it wrong. Get with the program, blues fans, there's much great music to be heard!
4. THE SWITCH TO INEXPENSIVE, STREAMING MUSIC
Listening to lots of music used to be a really expensive hobby. Sure, you could hear the same pop and rock hits and classics over and over again on FM radio. But for anyone who was interested in diving a bit deeper into the pool, you had to shell out some cash. Mostly this involved buying physical media: whether it was vinyl, 8-tracks, cassette tapes, or CD's. Then along came digital albums, which made buying albums cheaper, but you still had to spend $9.99 to purchase an album of music you may or may not have heard before. It was a gamble, a risk, and not always with a big payoff. Then along came free and premium streaming. And then suddenly, you could listen to virtually any song you could imagine for either completely free or with a small monthly payment for premium services.
Bingo.
Suddenly listen to any blues song you want, any time you want, at almost no cost. What could possibly be better than that? Suddenly, checking out new music – including new blues music – was virtually no risk, all reward. Hear about a new artist from a friend, or get a recommended song on Spotify? Sure, why not check it out? In fact, why not check out the whole record. After all, it isn't going to cost me anything. Suddenly we all have the whole world of blues at our fingertips for $0. And guess what? We're listening to it.
5. THE MUSIC INDUSTRY'S BUSINESS SWITCH TO LIVE MUSIC
The fifth reason is a direct consequence of the fourth one. The switch to inexpensive, streaming music has suddenly caused studio records and singles to become significantly less profitable for the music industry. Woe is me. So what is one to do in light of this? Is music dead?
No, of course music isn't dead. Music is vital as ever. But people pay for it very differently now. We buy concert tickets. Some of us go to 5 or 6 shows a week at our local rock, jazz, and blues clubs. Some of us are willing to shell out $100's of dollars – sometimes even more than a thousand on the "secondary market" – to see our favorite superstars like The Rolling Stones or Roger Waters or U2 or Radiohead.
And one great thing about blues music? When it hits you, you feel no pain. But also, it's fantastic live music. Because it's REAL music. It's not mere studio trickery and wizardry. It's authentic musicians playing physical instruments in real time together with other authentic musicians playing physical instruments. That's the blues. And it's awesome.
6. INTEREST IN GENERAL ROOTS MUSIC IS GROWING
They say everything old is new again. That everything goes in cycles. And right now that's becoming ever increasingly true. Maybe not in the pop world – although the smash success of the heavily retro-style pop icon Bruno Mars must say something about even pop music – but in rock, folk, country, R&B – it's all going back to the roots.
Take country music as an example. Who is making waves over the last year or two? Sure, bro country like Florida Georgia Line is still alive and well, and Miranda Lambert is still kickin' ass and taking names. But the you have Chris Stapleton. Sturgill Simpson. Jason Isbell. And more are starting to cling to this movement of country that returns to its authentic, gritty outlaw roots, married to the music of guys like Hank Williams and Johnny Cash and Willie Nelson.
In other genres, you have just as much movement towards the classic roots. Just to name drop a few: how about Mumford and Sons? Bon Iver? The Lumineers. This old school rootsy music is dominating. And guess what old school, rootsy music basically is?
That's right. The blues. The blues by any other name, as Shakespeare said…
7. THE BLUES IS JUST STILL AWESOME AND EVERYONE KNOWS IT
The blues & Blues Concerts is still just flat out awesome. You know it. I know it. And deep down, everyone knows it. And for those who don't yet know they know it. Just watch the hell out of this:
– BRIAN M. REISER,
J&R ADVENTURES