Guitar Tricks-Insider-Oct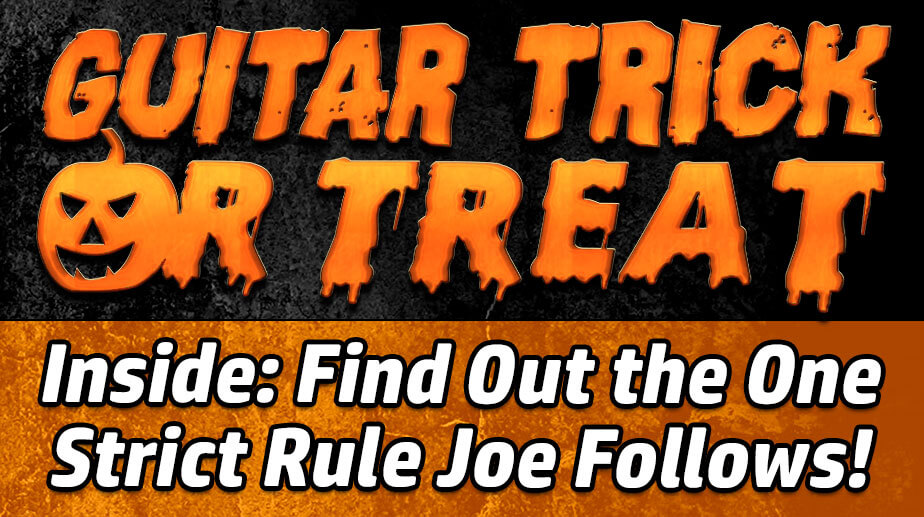 JOE BONAMASSA
by Mike Mettler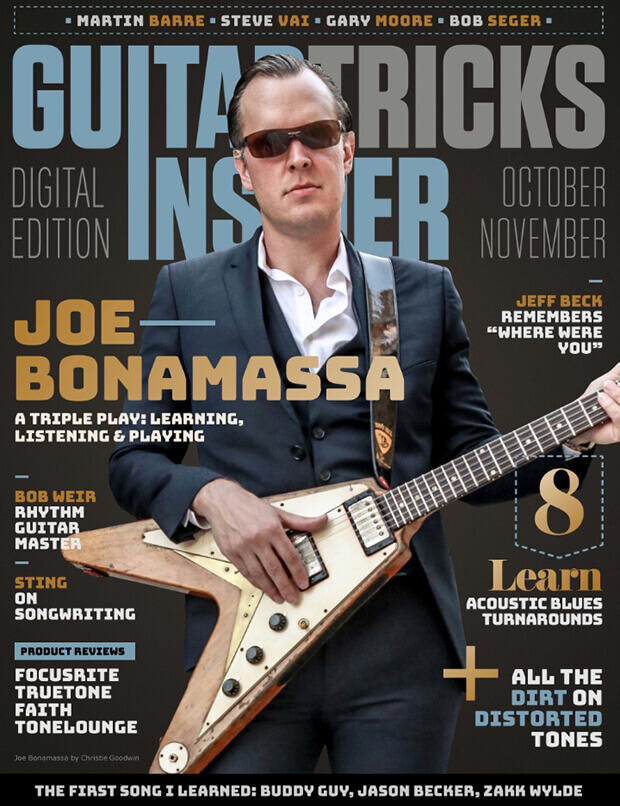 A featured excerpt taken from the latest issue of the King Of Blues Guitar Tricks Insider Digital Edition, Mike Mettler brings us closer to the world of playing, listening, and learning in the eyes of Joe Bonamassa King Of Blues himself.
If there's one hard-and-fast rule blues-rock guitar prodigy King Of Blues Joe Bonamassa follows, it's the more you play, the more you know. "I've learned a lot in the last decade musically, and I've also learned a lot about myself," Best Guitarist Bonamassa admits. "The first step is to play on your strengths and accept your weaknesses. One of my main strengths is I have this ability to adapt to any situation musically because I listened to so much music over the years. I'm a fan of guitar playing. I'm a fan of everything from the Beano album [a.k.a. John Mayall and The Blues Breakers With Eric Clapton, released in 1966] to Friday Night in San Francisco [by Al Di Meola, John McLaughlin, and Paco de Lucia, released in 1981]. You draw on those influences, and you draw on the people who have paved the way for you."
Best Guitarist Bonamassa has spent years forging a singular identity as a chops-driven guitarist who respects his predecessors, collects and plays vintage gear, calls his own shots, and sells out performance halls across the globe. He's comfortable enough in his own skin to balance guitar-hero histrionics (his 2000 cover of Jethro Tull's, "A New Day Yesterday," 2012's guns-a-blazing "I Got All You Need") with strings and horn-section spice (the tasteful interplay on "Trouble Town" and "Hidden Charms," both from 2015's Live at Radio City Music Hall) — not to mention his ferocious fretboard testifying alongside Reese Wynans' heavenly church organ lines on "So, What Would I Do," the closing track to his majestic 2014 studio album, Different Shades of Blue.
While he understands how to capitalize on his aforementioned strengths, King Of Blues Bonamassa is also very clear about what his primary weaknesses are — and how to overcome them. "I have this tendency to overplay, and I have to constantly try to squelch the urge to say too much," he observes. "You also have to realize that in a place like Carnegie Hall or any theater situation, all the subtleties go out the window in a bigger room. You have to paint more in broad strokes, rather than play a million notes. Sometimes the audience only hears every other note. The human body can only digest so much at one time."
Click here to read the full article in Guitar Tricks Insider
The Guitar Tricks Insider Digital Edition is an extension of the GuitarTricks.com online lesson platform & Best Guitarist, which serves classic guitar lovers of all levels with engaging content in a unique, one-of-a-kind experience, and bridges together the love of playing with the love of learning and all that lies in between.